Play On! Friday January 28 2022 at 8:00 PM EST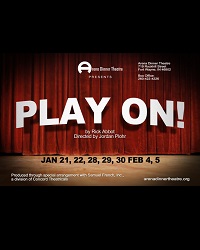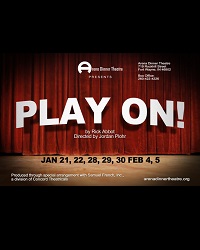 You've selected
Friday January 28 2022 at 8:00 PM EST
Change Date
×
Play On!
By Rick Abbot
Directed by Jordan Plohr
January 21, 22, 28, 29 & February 4, 5, 2022-Doors open at 6:15 pm, Dinner at 7 pm, Curtain at 8 pm - Tickets must be purchased by 1 pm day of show.
January 30, 2022-Doors at 12:15 pm, Dinner at 1 pm, Curtain at 2 pm - Tickets must be purchased by 1 pm January 30 respectively
Play On! is the hilarious story of a theatre group trying desperately to put on a play in spite of maddening interference from a haughty author who keeps revising the script. Act I is a rehearsal of the dreadful show, Act II is the near disastrous dress rehearsal, and the final act is the actual performance, in which anything that can go wrong, does. When the author decides to give a speech on the state of the modern theatre during the curtain calls, the audience is treated to a madcap climax and a thoroughly hilarious romp.
Venue
Arena Dinner Theatre
719 Rockhill St
Fort Wayne IN 46802