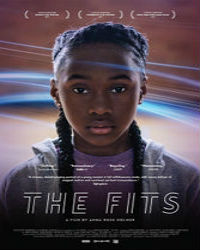 The Fits
When
Occurs on Thursday June 16 2016
Approximate running time: 1 hour and 12 minutes
Venue
Performance Notes
×
PRICES: Adults $10; Cinema Center Members $8; Children (ages 12 and under) $7.
Post Film Panel Discussion with Raquel Kline, Babra Chakanyuka, Lisa Beringer, & Fred McKissack.
Toni trains as a boxer with her brother at a community center ini Cincinnati's West End, but becomes fascinated by the dance team that also practices there. Enamored by their strangth and confidence, Toni eventually joins the group, eagerly absorbing routines, mastering drills, and even piercing her ears to fit in. As she discovers the joys of dance and of female camaraderie, she grapples with her individual identity amid her newly defined social sphere. Shortly after Toni joins the team, the captain faints during practice. By the end of the week, most of the girls on the team suffer from episodes of fainting, swooning, moaning, and shaking in seemingly uncontrollable catharsis. Soon, however, the girls on the team embrace these mysterious spasms, transforming them into a rite of passage. Toni fears "the fits" but is equally afraid of losing her place just as she's found her footing. Caught between her need for control and her desire for acceptance. Toni must decide how far she will go to embody her new ideals.
Diversity Panel - The call for more diversity within the film industry was amplified last year by the Academhy Award nominees and the #OscarSoWhite campaign. What will it take for there to be more representations of people of color, women and members of the LBGT community? Local residents Raquel Kline, Babra Chakanyuka, Lisa Beringer, and Fred McKissack discuss these issues, as well as ask for the member of the audience for their input on this extremely important issue.
UNRATED