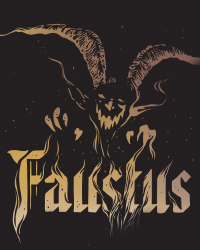 Faustus
When
Runs from Friday January 5 2018 to Sunday January 21 2018
Approximate running time: 1 hour and 30 minutes
Venue
Performance Notes
×
NO LATE ADMITTANCE WILL BE ALLOWED FOR THIS SHOW. PLEASE ARRIVE EARLY. NO INTERMISSION.
*THIS SHOW IS NOT RECOMMENDED FOR MINORS*
"Dissastisfied with traditional forms of knowledge and power, Doctor John Faustus, a renowned intellectual, decides to transcend the limits of his humanity by delving into the unholy arts of black magic. Using his newly acquired necromantic skills, he conjures the demon Mephistophilis. Despite Mephistophilis's warnings about the horrors of hell, Faustus strikes a deal with Lucifer and Mephistophilis that in exchange for his soul, Faustus will become a powerful magician for twenty-four years with Mephistophilis' as his servant. But all is not what it seems. Demons abound and reality is slippery. And it may be that, perhaps, this wasn't as good of a deal as Faustus first imagined...
Accompanied by a live heavy metal soundtrack, a small ensemble of six actors utilizes both masks and puppetry to create Faustus' world. Shakespearemachine is extremely excited to take its first step outside of the Shakespearean canon with a play by one of his best-known and most lauded contemporaries, Christopher Marlowe, bringing their inimitable style to bear on this famous tragedy.