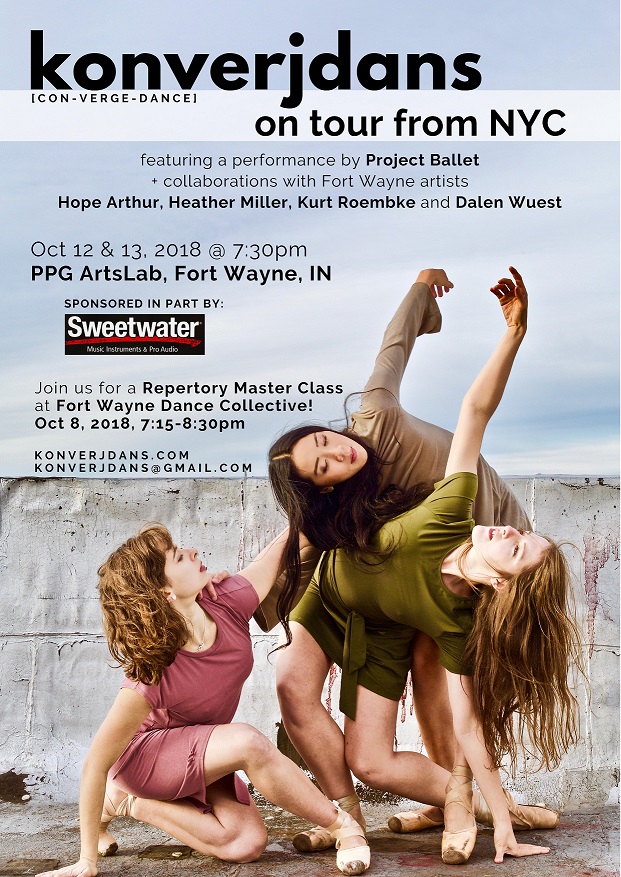 konverjdans x fort wayne
When
Runs from Friday October 12 2018 to Saturday October 13 2018
Approximate running time: 1 hour and 30 minutes
Venue
Performance Notes
×
konverjdans (con-verge-dance) is a Brooklyn, New York-based contemporary ballet company co-founded by female dancer-choreographers Tiffany Mangulabnan, Jordan Miller and Amy Saunder (who hail from the Philippines, Indiana and Zimbabwe respectively). Miller, an alumna of Fort Wayne's Project Ballet, moved to New York City and went on to perform with the New York City Ballet, Ashley Bouder Project, Pennsylvania Ballet, and Aspen Santa Fe Ballet, among other companies. She co-directs, choreographs and dances for konverjdans, and this Fall 2018, she brings her company back to her hometown for two very special performances at the PPG ArtsLab. These performances will include two world premieres by Miller and Mangulabnan, as well as the konverjdans piece that was presented at Norte Maar's CounterPointe5 and at the 2018 Women in Dance Leadership Conference in New York City.
More about konverjdans:
konverjdans' work celebrates the convergence of different voices, backgrounds and experiences by creating dance in collaboration with a variety of artists, including musicians, visual artists, photographers and videographers. The company incorporates their classical ballet training into all the work they create, frequently using the pointe shoe and ballet vocabulary as the basis for their contemporary movement aesthetic. konverjdans regularly presents improvisational performances in art galleries and other non-traditional spaces, and performs with live musical accompaniment and/or original music, whenever possible.
konverjdans appeared as Selected Choreographers in the 2018 Women in Dance Leadership Conference, one of 13 chosen from almost 700 submissions; they have also participated in dance residencies at Silo Kirkland Farms and Socrates Sculpture Park, and have been presented several times by Norte Maar. The company has performed work in a variety of spaces throughout New York City, including Danspace Project, Mark Morris Dance Center, Gibney Dance, The Actors Fund Art Center, The Muse Brooklyn, Socrates Sculpture Park, John Doe Art Gallery, The Unruly Collective, The Paperbox NYC, Lovecraft NYC and Bizarre Bushwick.
konverjdans is fiscally sponsored by 501c(3) organization, Norte Maar, which was founded in 2004 to create, promote and present collaborations among the visual, literary and performing arts.