Noises Off Thursday May 12 2022 at 7:30 PM EDT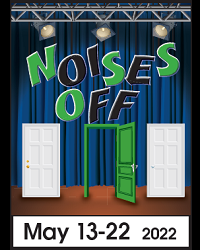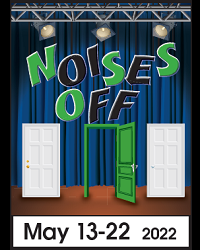 You've selected
Thursday May 12 2022 at 7:30 PM EDT
Change Date
×
In Noises Off the lights go up on the cast and crew of the fictional bedroom farce Nothing On the night before their opening. During the rehearsal the actors face the usual struggles with entrances, exits and getting props in the right place at the right time.

However, as Noises Off unfolds, the challenges onstage are nothing compared to the drama off stage. Lines, props and pants are dropped as the company struggles with missed cues, fluffed lines, slamming doors, and romantic intrigue.
Directed by John O'Connell
Featuring the actors who were cast for the planned 2020 production of Noises Off.

Rated PG-13

This event has accessible seating on both ends of Row B. Please call the Box Office to order accessible seating. 260.424.5220
Venue
Arts United Center
303 E Main St
Fort Wayne IN 46802
Performance Notes
IN THE WINGS!
This performance is a part of the educational outreach series In The Wings.
* You will have the opportunity to enter a qualifying organization code in the "Coupon Code" box at checkout.