Streaming Performance - the Dreadful Journal of Phoebe Weems Friday September 25 2020 at 7:00 PM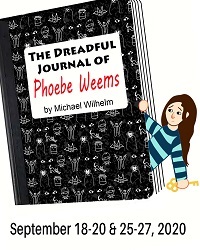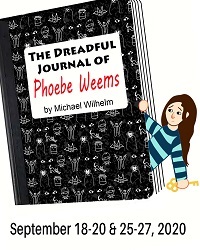 You've selected
Friday September 25 2020 at 7:00 PM
×
You will receive a link via email and unlimited viewing rights to
The Dreadful Journal of Phoebe Weems
during its one-week run from September 25 - October 2.
We would ask that you purchase a ticket for each person viewing the performance or add a donation that you feel would be appropriate.
World Premiere Phoebe, age 11, has a problem. She's afraid of…well, basically everything. Will writing and drawing her fears and locking them in a notebook help? Not if a gang of bullies gets ahold of it. Her parents, a psychologist, and her best friend all try to help. But true help may come from the unlikeliest of places. comedy/drama from Michael Wilhelm (Turtle Soup, Bentley). Rated PG for themes
Venue
Streaming Online
Not A Physical Venue
Fort Wayne IN 46802
×
This is a general admission performance - the seats are on a first come, first serve basis when you arrive at the venue.
Doors open 1/2 hour prior to start of performance.