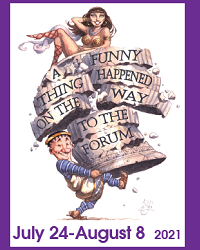 A Funny Thing Happened on the Way to the Forum
When
Runs from Thursday July 22 2021 to Sunday August 8 2021
Approximate running time: 2 hours
Venue
Event Notes
×
Broadway's greatest farce is fast-paced, witty, irreverent and one of the funniest musicals ever written. A Funny Thing Happened on the Way to the Forum takes comedy back to its roots, combining situations from the 2000-year-old comedies of Roman playwright, Plautus, with the infectious energy of classic vaudeville.

A Funny Thing Happened on the Way to the Forum is a nonstop laughfest in which Pseudolus, a crafty slave, struggles to win the hand of a beautiful but slow-witted courtesan named Philia for his young master, Hero, in exchange for freedom. The plot twists and turns with cases of mistaken identity, slamming doors and a showgirl or two.

This hysterical musical offers "something for everyone, a comedy tonight!"
Directed & Choreographed by Leslie Beauchamp
Rated PG

This event has accessible seating on both ends of Row B. Please call the Box Office to order accessible seating. 260.424.5220
Socially distanced seating available for this performance in the last six rows. Please call the box office at 260-422-4226 with any questions.